One of the recent developments in the town of La Roche sur Yon is a new footbridge, designed by HDA Paris in collaboration with Bernard Tschumi . The town is included in the extension program of the TGV lines throughout South of France. With the arrival of the TGV, the city has planned to renovate and modernize its train station and replace the old 1890's footbridge over the railway tracks.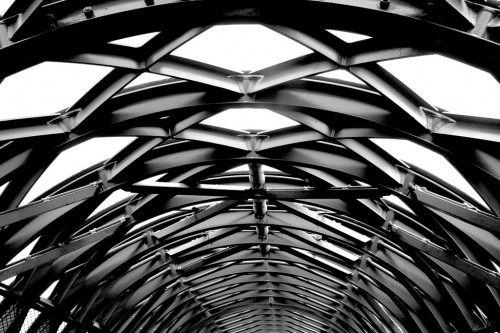 The railroad has its significance for the town as it divides the historical central part and the contemporary neighborhood where one could find all the modern facilities (schools, stadium, and residential area). This project aims at reestablishing a symbolic interrelation between the two parts of the city and equally to celebrate the arrival of the TGV.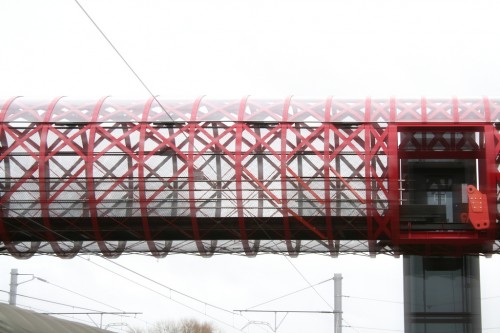 HDA about the design process
"La Roche sur Yon is the birthplace of Robert le Ricolais, engineer, architect, poet and painter, known for his theoretical research on trellis structures and tensegrity during the 1950's. This heritage, both intellectual and historical, has inspired the design of the new footbridge by attempting maximum lightness. During the design process therefore HDA combined structural optimization with the architectural concepts by creating a full height filigree lattice tube, that provides not only a support for safety meshes as required by the railway authority, but also maximum structural inertia."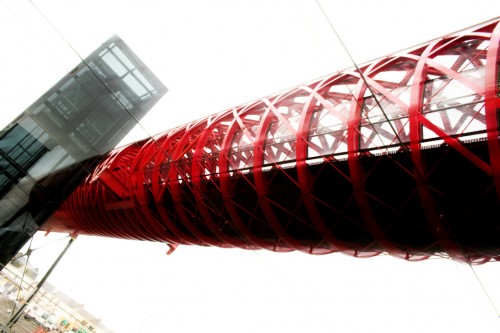 You can learn more about the project on HDA's website.
More photos of the bridge on their flickr set.
P.S.(14.12.2009) : We're posting a few pictures of study models of the footbridge that our friend Antoine made at HDA. Thanks for sending them!:)